---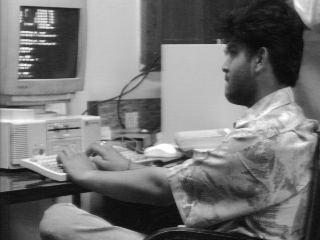 I was born in Lucknow, the capital of Uttar Pradesh on 30th December, 1974. I did my schooling in Haridwar and Dehradun. After my twelfth (1992), I did coaching for engineering enterance exams for one year during which period, I stayed with my grandfather in Muzaffarnagar. Luckily, I made it to the IIT JEE and went to

Indian Institute of Technology-Kanpur. There I did B.Tech. in Mechanical Engineering (1993-97). Here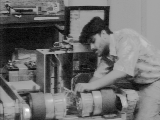 is me working in the Robotics Lab, Mech. Department, IITK on Tele-Operated Vehicle (Bhabha Atomic Research Center Project worth 30 lakh - though my contribution to this project was really minute.) Presently, I am working with
Computer Vision India (Pvt) Ltd. as Software Engineer.
My family consists of my father Sri. Subhash Chandra Goyal, my mother Veera Goyal, elder sister, Shivani Goyal me and my younger sister, Shefali Goyal.
And, before we go any further, just in case (not that I'm looking to get hired, but - just in case you ARE my big break), here's my resume.
I like playing Table Tennis, Lawn Tennis, Cricket (a big fan of Tendulkar), photography, eating (In fact this I have developed this as my favourits way of time pass), watching movies (interests vary from Govinda type movies to Arnold type). I like movies of Sandra, Demi, Amitabh (inspite of the fact that he has given flops like Jaadugar, Toofaan), Dev Anand, Nutan, Smita Patil - to name some. Apart from this, I like to spend my time with my family.
When at IIT-Kanpur, I used to spend time mostly with my great wingmates (although I liked Computer Center also - where I have spent countless number of nights surfing the web). I will never forget our D... Parties with Tond, Mota, Negi, Jantoo, Moti and Respected Guptaji. They really helped me a lot by being there whenever I needed them - from the times when I felt homesick to the times when I wouldn't feel like studying (this happaned rather frequently). I wish them all good luck for their future plans and goals. May all their dreams come true.
Apart from my wingmates, I have several other people whom I will never forget. Dr. Kalyanmoy Deb has a major contribution in taking me where I am today. He introduced me to the fascinating world of Genetic Algorothms. For those who do not know this, it would suffice mentioning here that GA is an optimization algorithm that works on the principle of Natural Genetics and finds Maximum/Minimum of functions (ie optimizes the functions). With him, I could work for hours and not get tired. We could publish THREE papers in reputed journals in a short span of time. With him, I did a lot of projects too. Dr. Amitabh Mukherjee is one name I will always remember. He introduced me to the wonderful world of Artificial Intelligence, Robotics and CAD. With him, we wrote a paper on Ambiguous Shape Modeling.
Some of my senior friends worth mentioning here would be Suman Ojha, Sambit Dash, Gaurav Saxena, Ankur Jain. Sambit and I have spent many nights on the web in the Robotics Lab. We would not mind sleeping in the Lab completing our search for something new (GA code, GP code, Steffi in swim-suit, pondy, ...). Sometimes we used to fight whenever his jokes used to go beyond me.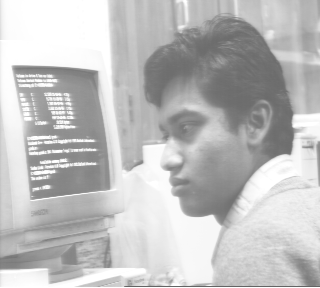 He is a good poet and was a real chapu guy who would not mind taking the tuffest path to attain the same goal.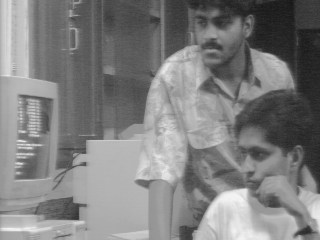 Suman is a stud from Laloo's Land. Watch us work in the Lab together. We guys look very serious, isn't it? I guess they all will remember our 'Wet Party' at Dr. Mukherjee's house. Sambit was really showing his 100%. My wingmates will always remember their trip to Auli with Sambit throughout their lives. Atul Gupta was one nerd who would spend nights breaking passwords and getting huge disk quotas. I always used to get fascinated by his deeds.
Priya, Richa, Urmila didi were the people who always helped me whenever I used to feel homesick. Priya will always work hard and 'never' copy assignments even if the whole class does. She has landed a job with AutoDesk Inc., California (Going great guns!).
Want to know more about my likings? Take this link.

Rewind?
---
Papa is originally from MuzaffarNagar, a place near Delhi in UP. He did B.E. in Civil Engineering from Motilal Nehru Regional Engineering College (MNREC - Allahabad, UP). Then he did ME in Architecture. After this he married and started his job as Assistant Engineer (Irrigation Department) placed in Koyna. After that got transferred to various places - Lucknow, Haridwar, Dak-Paththar & Dhalipur. He got promoted to Executive Engineer in 1988. Presently he is posted at Dhalipur. He likes yoga, evening walk, photography, sweets (this is his weak point), old hindi songs, driving, visiting new places with family & his old college-time classmates. And above all wherever he may be on earth, he likes to be with his family.

Rewind?
---
Mummy is originally from Allahabad (UP). She did her schooling in Banaras, Allahabad and Dehradun. After 12th, she did BA and then married. She likes to sit and think about the future of her kids! (especially her daughters). Somehow she has inculcated a feeling that her kids do not eat (especially her son) and as a result he has to eat a lot (and you see the result is reflected in my figure). Like papa, she too will refuse to go to Heaven if her family is not with her. She likes to tell us (children) about her childhood days.
Mummy is six brothers and sisters. She is second in the list - Neera Mausi, Mummy, Ira Mausi, Guddi Mausi, Munna Mama and Meeta Mausi. I like Meeta Mausi the most probably because there is not much difference between our ages. She is just like us when with us. Guddi Mausi has three daughters - Rinku, Sheetu and Meenal. Sheetal is a brilliant student and has never come second in her class. Meenal is a cute little sister who is following Sheetu's footprints (probably she will break Sheetu's records). She has reached State Level also in Swimming. Probably National Level too (not too sure about this). But I like these kids the most. Possibly because they too like me very much.

Rewind?
---
Shivani (jiji) did her schooling in Haridwar - the land of Pilgrims, Temples and the Almighty Ganga! She does not have any plans for study as of now, and prefers spending time with the family. She likes to spend every ounce of her energy for the benefit of others. She likes kids, her sisters & brother, pets, ... (the list goes on). Shekeeps an eye on Papa. He can not dare take more sweets than allowed by the doctor if she is around. That is why Papa say she must have been his mother in her previous birth. May god give her all the happiness and all the best wishes.

Rewind?
---
Shefali is my youngest sister and I really envy her. Being the youngest in the family, she gets everyone's attention. She has been a very brilliant student throughout her academic career - used to frighten all her classmates before the exams. She has always come first in her class (as far as I remember). In sports, she has gone to National Level and that too in three altogether different events! (Long jump, Shotput, Badminton). Bagged bronze medal in Badminton and consolation prizes in others. At state level, it is difficult to keep track of the prizes she has received till now. Since her tenth class, she is receiving National Scholarship. After Twelfth she did her BA from DBS College, Dehradun. Side by side she indulged herself in Fashion Design and learnt Casioand some Dance too! Presently she is doing MBA from Center for Management Development, Modinagar (UP).

Rewind?
---